Why Use a Yoga Mat?
Whether you are a yoga newbie or a pro, a good yoga mat is a must-have! Yoga mats are a simple yet important piece of equipment to support your yoga practice. Whether you're in a studio or at home, it's a good idea to practice on your own yoga mat, not only for hygienic reasons, but often your yoga becomes a safe personal space, as if it's an extension of your body and practice. No matter the kind of yoga, whether it be Vinyasa yoga, Ashtanga yoga or restorative Yin yoga, it's a good idea to practice on your own yoga mat.
There are many benefits to using a good yoga mat to enhance your practice.  Yoga mats can help reduce the risk of injury by assisting yogis to keep a good grip on the surface during poses, preventing slipping and providing a comfortable padded surface for poses, inversions and for those who may have knee or joint sensitivity. Owning your own yoga mat will provide a consistent, clean workout space no matter where you are practising.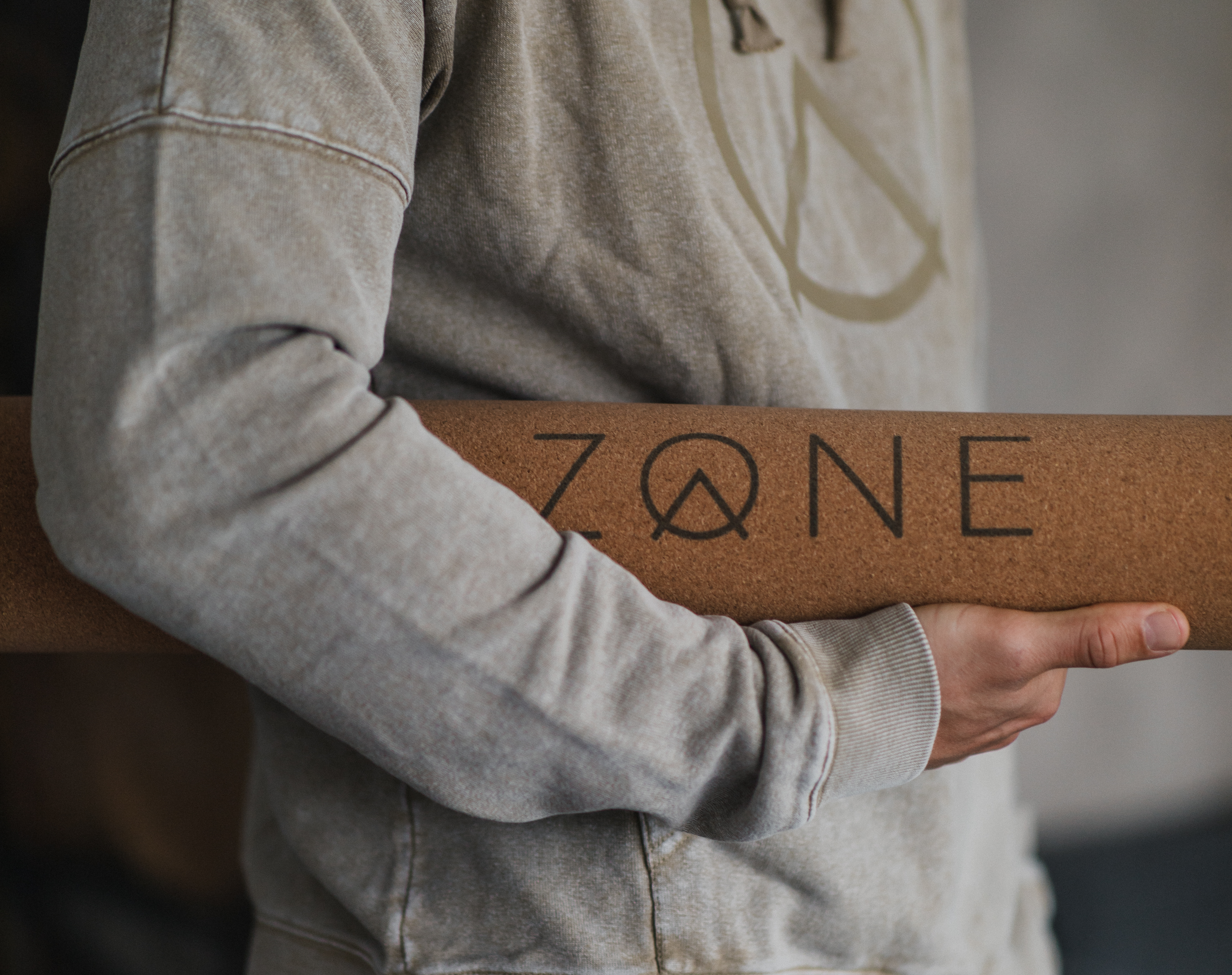 How to Choose the Right Yoga Mat?
With so many yoga mats available, it can be hard to understand what to look for when buying a yoga mat.  When buying a quality yoga mat, you first need to think of its function.
You will need a mat that keeps you stable in your poses, allows you to be comfortable and most importantly for us here at ZONE by Lydia, it needs to be environmentally friendly.
These elements are influenced by the material, the thickness and the texture of the mat. Read more to find out what type of mat is right for you!
Yoga Mat Material
The material of a yoga mat is the most important element to consider when buying a yoga mat as it dictates the mat's texture, comfortability, and durability. The material you choose will also affect the mat's weight, price, and grip.Yoga mats come in various materials, from inexpensive PVC to environmentally friendly materials like rubber and cork. However, the most common materials you see yoga mats made of are PVC, rubber, TPE and cork.
PVC
PVC or Polyvinyl Chloride is a man-made plastic-based material that is durable, easy to clean, but can get slippery when you sweat. If you see a communal yoga mat at your local gym, it is likely made from PVC.
While PVC yoga mats can last many yoga sessions, they are non-biodegradable and are not environmentally friendly and often smell like chemicals. A big no if you're asking us!
Rubber
Natural rubber yoga mats are a nontoxic, durable and a biodegradable alternative to PVC yoga mats. Rubber mats are heavier than other non-rubber yoga mats and often have a harder surface, which means that they do not provide as much comfort for sore knees. Rubber yoga mats are a good alternative to PVC but can be a bit too sticky for poses like forward splits, or jump throughs where you need to be able to slide your feet. Rubber yoga mats tend to become more slippery with sweat and are not ideal for hot yoga classes.
TPE
TPE or Thermoplastic Elastomer yoga mats are a man-made blend of plastic and rubber polymers. TPE yoga mats are often biodegradable, lightweight and softer than rubber and PVC yoga mats. This material is usually less durable than other yoga mats made out of cork or PVC.
Cork
Cork is the most sustainable material that you could choose for your yoga mat as it is 100% biodegradable. Cork yoga mats get grippier the more you sweat, they are extremely durable and create the perfect balance of cushion and traction that you need during yoga. Our cork yoga mat is dual sided combining natural rubber and cork and is completely biodegradable. With the option of cork and natural rubber, you have a dual grip option that provides enough cushioning, glide and grip for all kinds of practice.
Cork is also naturally antimicrobial, ensuring that your area stays clean and sanitary as you practice. Cork is the material of choice for yoga mats here at ZONE by Lydia, as it helps ensure that we are cultivating an eco-conscious yoga practice.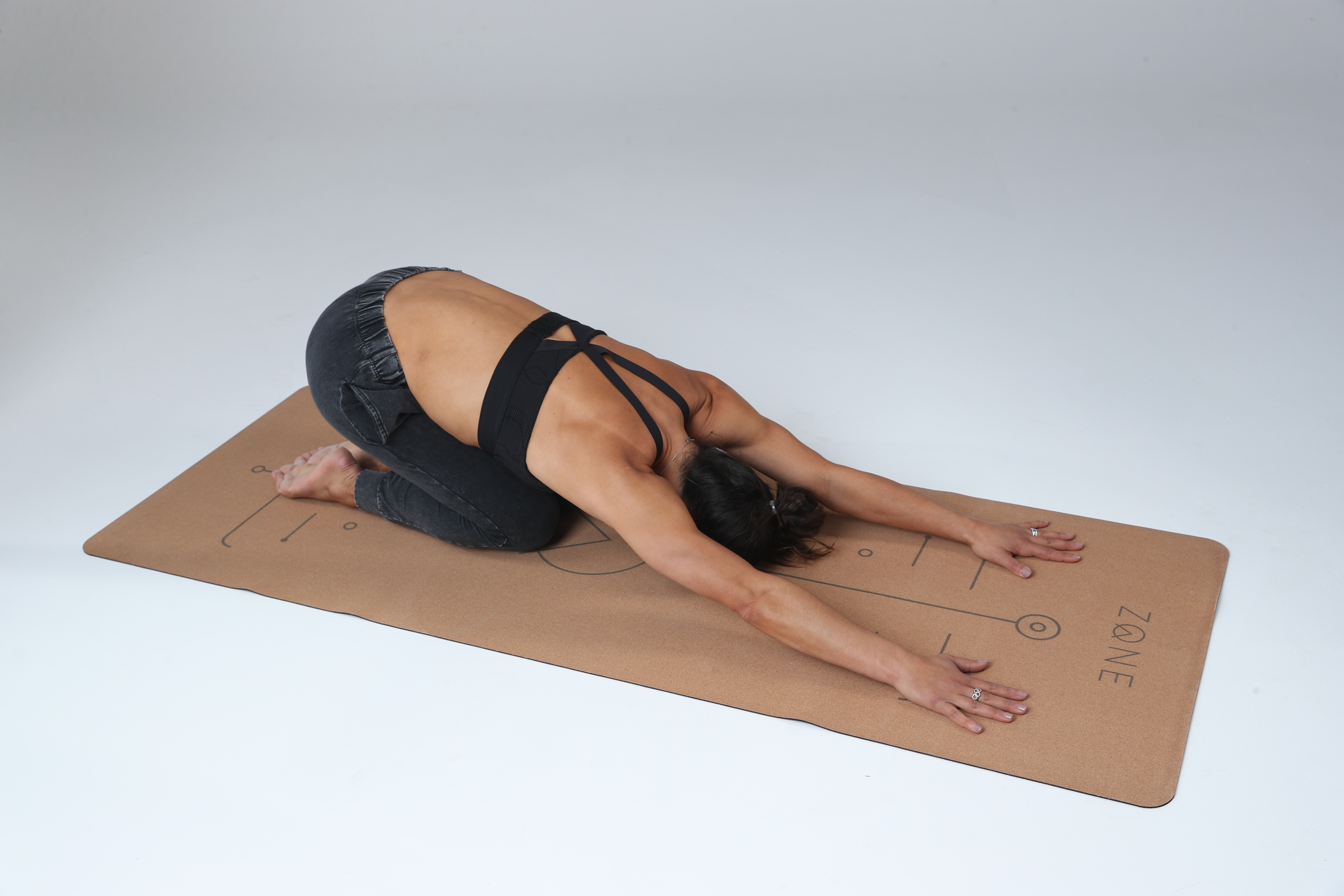 Yoga Mat Thickness
The thickness of your yoga mat is the second most important element to consider before your purchase. Standard yoga mats are 1/8 inch or 3.17mm thick, while thicker yoga mats are ¼ inch or 6mm thick.
The thickness of a yoga mat influences how comfortable it is, but there are other elements to consider before you go and buy the thickest yoga mat you can find. While extra-thick yoga mats can help protect your joints, choosing a mat that is too thick can slow your flow and could be too cushiony, causing you to sink into your mat.
Thinner yoga mats (less than 3mm) often come in the form of travel yoga mats. While these mats are easy to store and cart between your home and class, they don't provide much comfort, especially if you practice on hard floors.
The best yoga mat thickness falls between 3mm and 4 mm. Mats that are around this level of thickness help you keep in control of your balance while still providing an adequate level of comfort. They are also thin enough to be easily portable.
Natural rubber or cork yoga mats often fall within this range as the material can not be made thicker than this. At ZONE by Lydia, our Cork Yoga mat falls right in this sweet spot at 3.5mm thick.
Yoga Mat Texture
Texture is also another element to consider when choosing your yoga mat as it influences the overall comfort and grip of the map. The texture will affect the amount of traction that the mat provides during your exercise.
PVC mats are slightly textured feel which provides the stickiness that ensures that you don't slide all over the place and helps you maintain alignment during your practice.
However, if you are looking for a more environmentally friendly option to PVC yoga mats, cork yoga mats are known for their smooth, natural feel and medium grip whilst rubber mats have an ultra sticky grip. Cork yoga mat's grip increases as you sweat due to a substance called suberin, ensuring that your mat is always stable and comfortable. Our cork yoga mat combines the best of both worlds!
Eco-Friendliness
Having an eco-friendly yoga mat is important to most yogis and is especially important to the team here at ZONE by Lydia. Traditional PVC mats often end up clogging landfills for years to come, and while they are a popular option for many yoga studios, they are not environmentally friendly.
If you are looking for an eco-friendly yoga mat, lean towards a natural rubber or cork yoga mat as they are biodegradable. Cork is one of the most sustainable materials available, as cork bark regenerates itself, meaning no trees are harmed in the production of cork yoga mats. Cork can also be recycled without producing and toxic residues. 
If you are looking for an environmentally friendly, quality yoga mat and want to remove plastic from your practice, check out our cork yoga mat today!